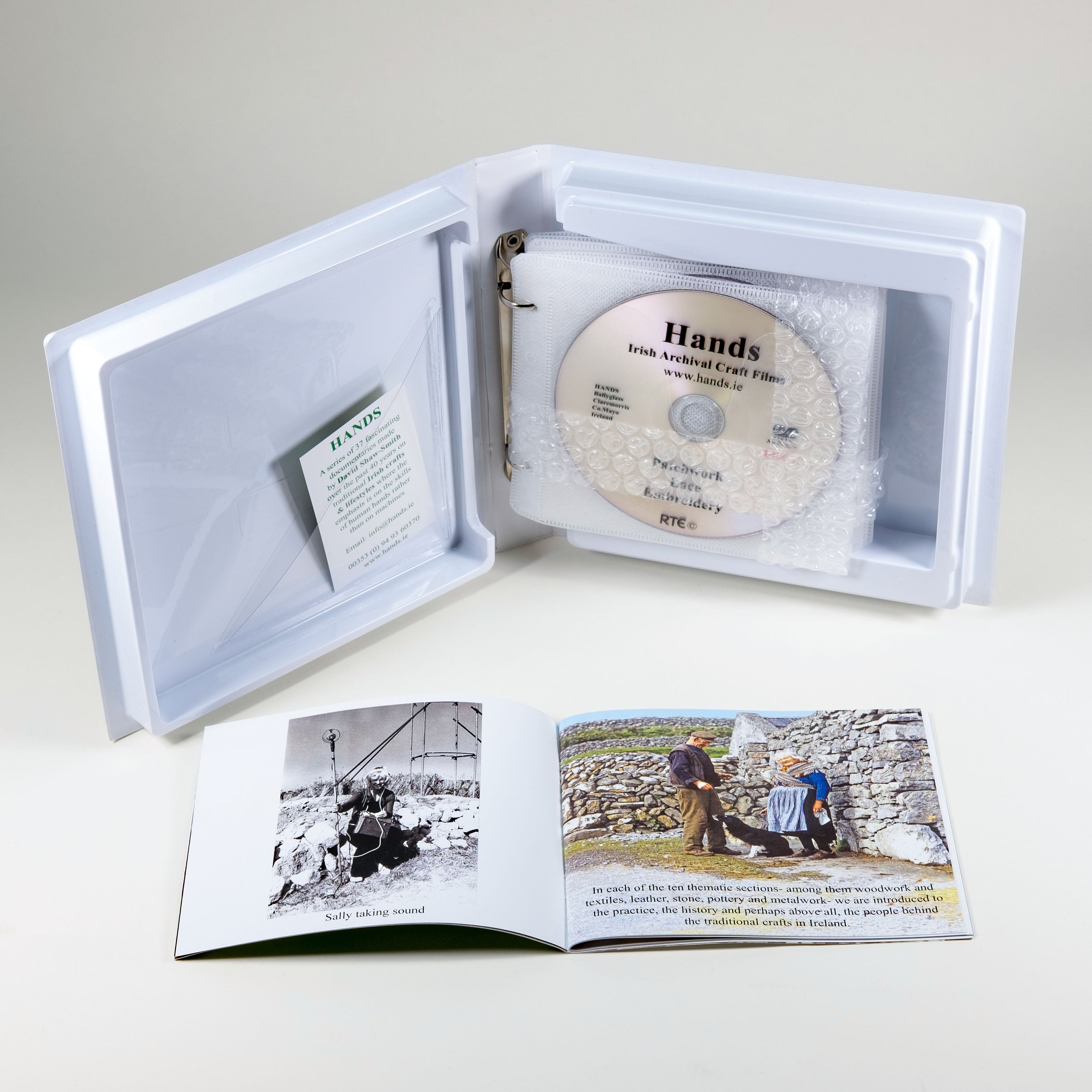 Hands Video Series
Unique documentaries on traditional Irish crafts & lifestyles
Produced and filmed by David and Sally Shaw-Smith
Benchcrafted is very happy to offer this video treasure
---
Within sight and sound of the wild Atlantic Ocean, a spinning wheel turns rhythmically in time to the high lonely cry of the sandpiper, echoing the history of a craft which may go back 3000 years into Ireland's past. David and Sally Shaw-Smith documented more than forty different traditional Irish crafts, from the weaving of crioses (colourful woollen belts) and the making of pampooties (moccasin-type shoes) on the Aran Islands, to the creation of items as varied as harps and candles, curraghs, drystone walls and Irish lace.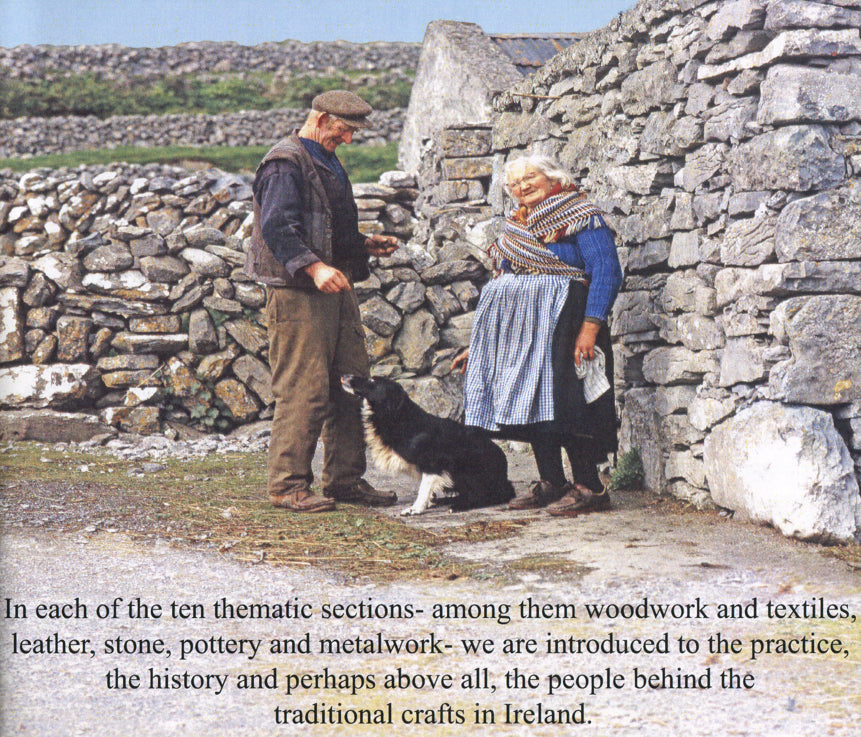 Imbued by a sense of urgency to record crafts in their natural surroundings before they disappeared completely, David and his wife Sally, under contract to RTE, travelled the length and breadth of Ireland and its islands to assemble this important collection of 37 films on traditional Irish crafts and lifestyles, where the emphasis is on the skills of human hands rather than on machines.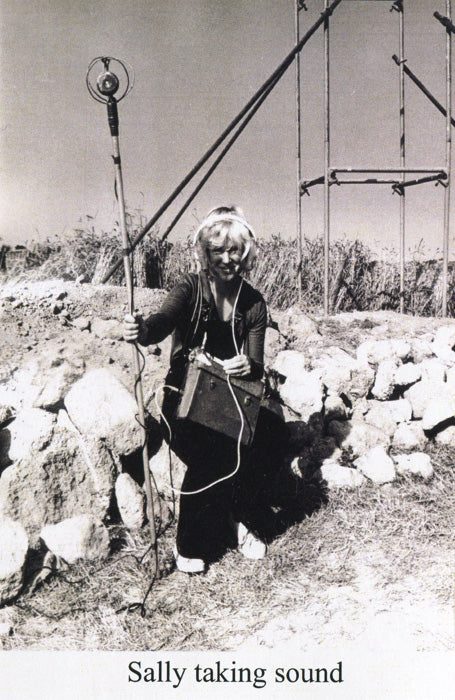 The filmmaker, David Shaw-Smith, grew up in Dublin, Ireland. From an early age, he was inspired by traditional practices and the natural world. He learnt his craft, initially working in television, joining the recently formed RTE Irish state broadcasting organisation in the early 1960's. After this, he went on to work for the renowned wildlife filmmaker Gerrit Van Gelderen, from whom he leant his camera craft. With this experience under his belt and a clear vision, he went out independently to make numerous films, many of which are included in this series.
The films not only record the various craft processes in great detail, but also create a unique archive of life in Ireland at the end of the 20th century. David's skilled camera work and direction, accompanied by Sally's creativity, and with help from an array of talented editors, technicians and sensitive narrators, combined to produce this outstanding series of documentaries.
CONTENTS
The complete series of 37 award winning documentaries on traditional Irish crafts and lifestyles, where the emphasis is on the skills of human hands rather than on the machines
14 Region free DVDs
Over 20 hours long. All films are 30 min. long unless otherwise indicated
Packaged in a sturdy spiral bound keep case with included booklet
Made in Ireland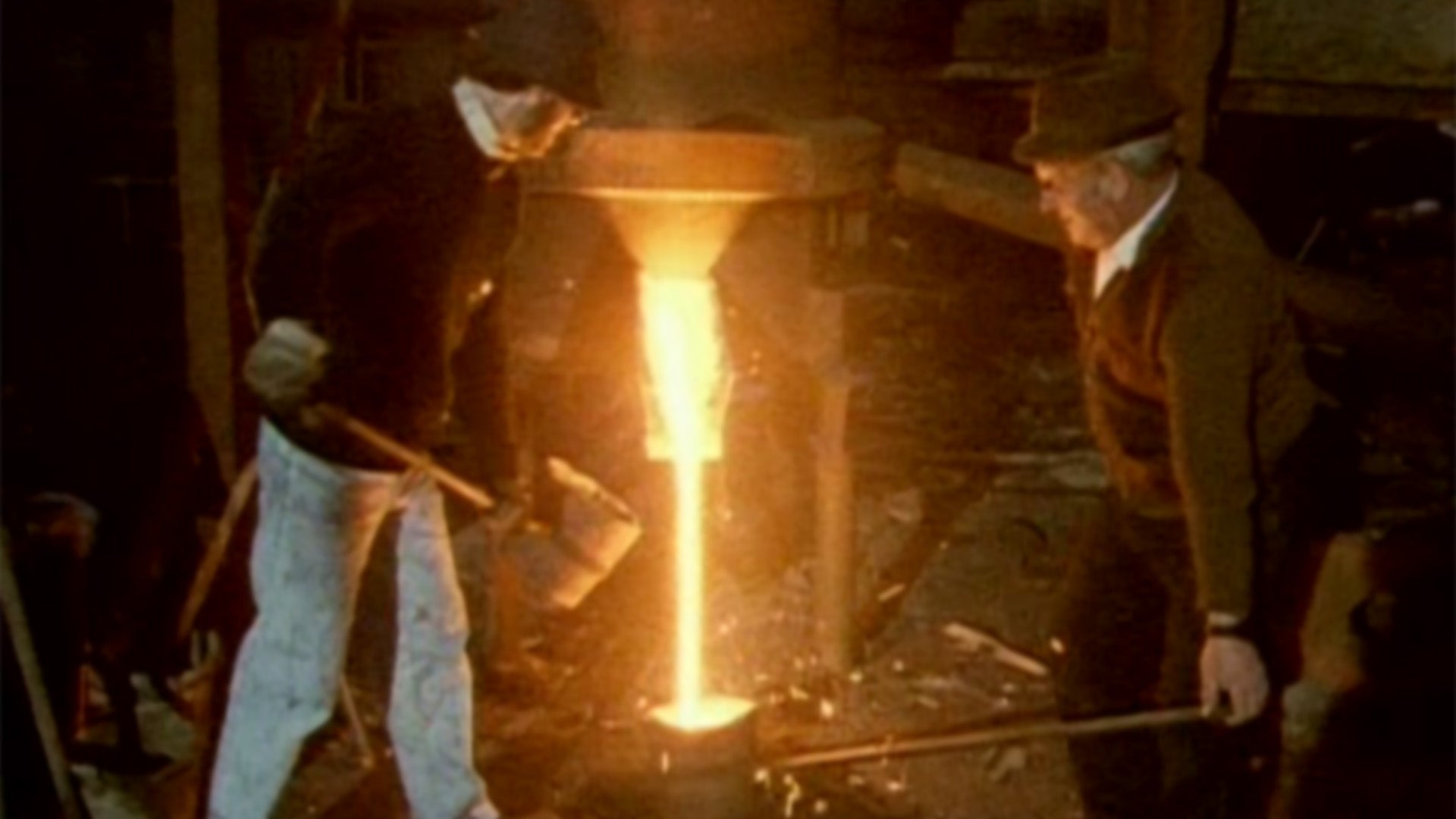 Disc 1 - Patchwork, Lace, Embroidery

Patchwork - 1981

Alex Meldrum from Co. Antrim introduces the range of traditional Irish patchworks as seen in collections from the Crafts Council of Ireland in Kilkenny. The Ulster Folk and Transport Museum collection is also shown. The film demonstrates the techniques, materials and methods used in the making of several popular types, including a superb Mosaic patchwork by Lorna Johnson in Co. Wicklow, and a Log Cabin design quilt by Avril Halliday in Co. Down, and others sewn by thrifty women from used flower sacks and old overcoats.

Commentary: Conor Mc Anally Music: Jolyon Jackson Running time: 26 minutes

Lace - 1983

One of Ireland's most highly regarded crafts since the 17th century, this film shows the various styles made around the country. In Carrickmacross, Co. Monaghan, the home of the famous applique lace, we see Marie Cullen at work. Nell Mangan makes Limerick needle-run lace, and Mollie Moore makes crochet lace introduced at the time of The Great Famine in the 1840's, made by both men and women alike. Fine examples of needlepoint, tatting, sprigging and pillow or bobbin lace, with their attractive glass and bead bobbin endings also feature in the film.

Commentary: Mairead Reynolds Music: Jolyon Jackson Running time: 26 minutes

Embroidery - 1989

Shows us a range of Irish needle work. In Mount Charles, Co. Donegal, we meet the last embroidery agent Jack Furey, and in Co. Down visit Thomas Ferguson, who operates a century-old Swiss embroidery machine. Experts demonstrate Ayrshire work, sprigging, & drawn thread work, and examples of Mount Mellick work, & 18th.Century sampler making. In Newry's Convent of Mercy, we see a magnificent altar cloth in embroidered 'cut-work', designed by Sister Camillus in the 1920s. Commentary- Linda Ballard. Music- Maurice Roycroft.

Commentary: Linda Ballard Music: Maurice Roycroft Running time: 26 minutes
Disc 2 - Wool Spinning, Donegal Weavers, Donegal Carpets

Wool Spinning - 1978

Starting at a traditional sheep fair we follow the Can-family of Kilcar, Co. Donegal shearing their sheep and spinning the wool. Plants are collected and used for dyeing the wool. Mrs. Carr spins on the Small or Flax wheel & knits a pair of socks from her own wool. We see Bessie Morrisson from Co. Mayo, the last person to spin on the Big wheel or Tuirne Mor, & Kate Mitchell from Dingle, who spins on the Kerry big wheel.

Commentary: Seamus Ó Cathaín Music: Terry Odlum Running time: 26 minutes

Donegal Weavers - 1980

This evocative film follows the traditional way of life of the three McNelis brothers from Ardara, Co. Donegal. Connal and Jimmy are weavers, outworkers for the well-known woollen mill and shop 'Magee's' of Donegal Town. We see the setting up of the loom, and weaving the fine tweed. John, the third brother, makes wholemeal bread baked in a pot-oven over the open fire, milks the cows, churns butter, and cultivates the shamrock, Ireland's national symbol.

Commentary: Ray Mc Anally Music: Jolyon Jackson, Paddy Glacken & Matt Molloy Running time: 26 minutes

Donegal Carpets - 1978

Carpets have been made in Killybegs, Co. Donegal since 1899, when Alexander Morton, a Scot, introduced the craft of hand-knotting carpets to Ireland. Famous all over the world, Donegal carpets have found their way to Buckingham Palace, England, government offices in Washington, D.C. and they were also made for the luxury Cunard Liner's, Queen Elizabeth and Queen Mary. This film covers all aspects of the carpet-making process, including the selection of colours, wool dyeing, mounting of the warp on the huge looms and the skilled hand-knotting and finishing of these magnificent carpets.

Commentary:Ray Mc Anally Music: Michéal Ó Súilleabháin Running time: 26 minutes
Disc 3 - English Silk, The Tailor

English Silk - 1985

This award-winning* documentary tells the story of silk production at Lullingston Silk Farm in Dorset, England, makers of the silk for the unforgettable wedding dress of Princess Diana. We see how silkworms are farmed and harvested, and their silk is reeled, spun and woven. At David Evans in Kent, England, the last British company still printing silk by hand, we see the dyeing and hand block printing of the silk, including the carving of the blocks. The film concludes with the screenprinting of silk for the famous Libertys store in London.

Commentary: Alec Taylor Music: Roger Doyle (*Silver Harp, Ireland's Golden Harp festival) Running time: 1 hour

The Tailor - 1978

In this fascinating programme we look at the craft and history of Michael Johnson & his son Michael, bespoke tailors in Tullow, Co. Carlow. We follow the making and fitting of a suit using traditional skills which include the measuring, pattern-making, cutting, sewing, and careful fitting of a hand-crafted suit. We see the use of traditional tools such as the Tailor's Goose, the lapboard and plonker among others. This is a wonderful insight into the once common craft of tailoring.

Commentary: Benedict Kiely Music: Michéal Ó Súilleabháin Running time: 26 minutes
Disc 4 - Cavan Cooper, Cabinetmakers, The Leitrim Chair

Cavan Cooper - 1981

This film documents the once widespread craft of coopering, a craft which has been in steady decline with the advent of changing demands and materials. A highly skilled craftsman, Ned Gavin has been working as a cooper in Ballinagh, Co. Cavan since the age of fourteen, when he was apprenticed to the local cooper. He made his first churn when he was just seventeen. We see him making a one-cow dash churn, Noggins for drinking out of, Piggins for holding milk, and stave-built churns and barrels, while being watched by his grandsons.

Commentary: Ray Mc Anally Music:Jolyon Jackson Running time: 26 minutes

Cavan Cabinetmakers - 1980

The Robinson brothers, Tom-Joe, Charles and Michael from Milltown, Co. Cavan demonstrate superb craftsmanship in making a set of dining room furniture in the 18th century Regency style. Using a lathe, Michael turns the backs of the chairs from a single piece of wood. Charles designs and cuts the exquisite inlay work using a marquetry swing saw operated by a foot treadle that he built from a design in a Victorian book. The final touch is the polishing of the furniture using wax supplied by the brothers' bees.

Commentary: Benedict Kiely Music: Jolyon Jackson, Paddy Glacken & Matt Molloy Running time: 26 minutes

The Leitrim Chair - 1980

John Surlis's skill as a chairmaker was inherited from his grandfather, a native of Co. Leitrim. Based in the little village of Monasteraden, Co. Sligo, we watch John making a traditional ash wood Leitrim Chair in the slab and stick method. He uses the 'beetle' or cleaver to split the rungs and legs, and shapes them using a drawknife sitting astride his Cooper's Mare. As a versatile craftsman, John also makes traditional donkey straddles & Sugans (twisted straw ropes).

Commentary: Benedict Kiely Music: Jolyon Jackson, Paddy Glacken & Matt Molloy Running time: 26 minutes
Disc 5 - Hurl Making, Harp Making, Lighthouse Crafts

Hurl Making - 1983

The ancient ball and stick game of Hurling has been played in Ireland for centuries. The water-powered sawmill on the river Nore, near Kilkenny is used for cutting the planks of ash wood. John Surlis, master craftsman, still does the job entirely by hand. Famed hurl-maker, Raymie Bowling, skillfully cuts out the hurl using a band saw, and hand finishes it. His craftsmanship makes it to the All Ireland hurling final at Croke Park in Dublin. Liam Dargan makes the traditional sliothar or leather ball.

Commentary: Diarmuid Ó Muirithe Music: Vincent Kilduff Running time: 26 minutes

Harp Making - 1989

The Forgotten Sound. The sweet resonance of the Irish wire-strung, low-headed Harp - Ireland's national symbol, had not been heard for centuries. This film tells the story of Peter Kilroy from Kenmare, Co. Kerry, who chose to construct one based on the Brian Boru harp in Trinity College, Dublin. We watch him making the body from willow, and the back sounding board from 20,000 year old Bog Pine. The harmonic curve is carved, the pieces assembled, the brass tuning pegs adjusted and the instruments strung. We hear again that ancient, magical sound.

Commentary: Michéal Ó Súilleabháin Music: 29 string low-headed harp by Paul Dooley & Carry Kilroy Running time: 26 minutes

Lighthouse Crafts - 1989

This unique program captures the closing years of the Irish lighthouse keeper's way of life, before Ireland's lighthouses became fully automatic. From the remote and stunning landscapes of the Fastnet Rock, Slyne Head, Ballycotton, Wicklow Head, & the Copeland Islands, we see the traditional making of a ship in a bottle, and the work of painters and poets and chefs. The documentary's mouth organ music was recorded by the Larne lighthouse keeper.

Commentary: Dick Warner Music: John Murphy (mouth organ) Running time: 26 minutes
Disc 6 - Carley's Bridge Pottery, Belleek Potteries

Carley's Bridge Pottery - 1981

This film features the workings of Ireland's oldest pottery, in Enniscorthy, Co. Wexford, founded by two brothers called 'Kerley' in 1659. They have been making coarse ware for well over 300 years. The process starts with the digging and curing of clay, a blue marl. We see Paddy Murphy, whose family has worked there for generations, hand-throwing flowerpots, and large decorative earthenware vessels with his strong, skillful hands. The dry pots are stacked in coal-fired beehive kilns for the dramatic firing process. From start to finish the whole process takes a week. The once dull brown clay is transformed into beauruful terracotta pots.

Commentary: Ray Mc Anally Music: Jolyon Jackson, Paddy Glacken & Matt Molloy Running time: 26 minutes

Belleek Potteries - 1987

This film was made to celebrate Beleek's 150 year anniversary. It features the history and work of Belleek Potteries, one of Ireland's best-loved companies. Using the native kaolin clay and feldspar (flint clay & shale), the craftspeople of Belleek have produced fine Parian china and Earthenware in Co. Fermanagh since 1857. We see the making of delicate floral baskets, figurines and decorative pieces in slip-cast Parian china, using skilled techniques such as fettling and modelling. The rich history of Belleek ceramics is seen in the museum examples shown in the film. Commentary: Benedict Kiely Music: Jolyon Jackson Running time: 1 hour
Disc 7 - Currachs, Dublin's Viking Longship

Currachs - 1978

Man's first arrival in Ireland during the Mesolithic period was most likely in these supremely seaworthy, keel-less skin boats. This documentary covers their regional variations. In Co. Kerry we see the construction and use of the racing currach. On the Aran Islands, Co. Galway, the currach is still used for fishing and to ferry supplies to the Island. Northwest Co. Donegal is the last area where the small Donegal paddled currach is used for setting fixed trammel nets and lobsterpots. The film includes rare film from the 1930's of the construction of the River Boyne Corracle.

Commentary: Seamus Ó Cathaín Music: Terry Odlum Running time: 26 minutes

Dublin's Viking Longship - 1988

For the celebration marking Dublin's millennium (1,000 years) the communities of The East Wall and Ringsend built a replica of a Viking longship, The Dyflyn. The film follows the shipwrights as they travel to the Ship Museum in Oslo, Norway to study original boats. We follow the construction of the vessel in detail from the felling of ancient oaks in Co. Laois. The ship is finally hauled into the open by teams of men, and the figurehead, mast and rigging mounted; followed by the launch of the vessel, and the inaugural voyage northward up the Irish Sea in the wake of the ancient Viking raiders.

Commentary: Éamonn Mac Thomáis Music: Mary Mc Auliffe Running time: 1 hour
Disc 8 - Dublin's Workhorses, Carriage Building, The Saddler

Dublin's Workhorses - 1983

In this film of Dublin street life we see the last of the dray-men and wagoners going about their business delivering coal, and working the fruit and vegetable markets. We meet the shopkeeper who sells oats for the horses, the farrier who shoes them, the traditional collar and harness maker, and the milk rounds-man and his horse. It includes archival photographs of Johnson Mooney and O'Brien bread-vans, and The Court Laundry's wagons.

Commentary: Éamonn Mac Thomáis Music: Terry Odlum Running time: 26 minutes

Carriage Building - 1978

One of the last surviving carriage works in Ireland is Breen's in Enniscorthy, Co. Wexford who make traps, gigs and landaus in the traditional manner. The documentary covers five trades: the wood-turner and bodybuilder, the wheelwright, the blacksmith who makes the metal undercarriages and bands the wheels, the painter, Colm Breen, who skillfully lines the wheels and applies further decoration, and the upholsterer who completes the interiors. All these skills are featured in the film, ending with a carriage driving event atPowerscourtDemense in Co. Wicklow.

Commentary: Seamus Ó Cathaín Music: Terry Odlum Running time: 26 minutes

The Saddler - 1981

Beside the beautiful rolling hills of the Curragh, Co. Kildare is the long-established family firm of Berney Brothers, led by 82 year-old Tom Berney. For 120 years they have been making saddles, bridles for racing, hunting, show jumping, dressage, and eventing. The film follows the traditional skills involved in making these items from good strong leather for quality and longevity. Berney Brothers are still making saddles and related products to this day, trading through the website: berneys.ie.

Commentary: Brian Mc Sharry Music: Jolyon Jackson Running time: 26 minutes
Disc 9 - A Dublin Bookbinder, A Dublin Silversmith, A Dublin Candlemaker

A Dublin Bookbinder - 1981

Presented by the distinguished writer and historian Dr. Maurice Craig, and filmed in the bindery of John F. Newman, Dublin, it demonstrates the ancient craft of bookbinding in considerable detail: designing the covers, sewing the gathers, tooling, burnishing and gilding. Shows detailed repair and restoration work. It includes film sequences in the historic Marsh s Library, Dublin, and early hand-tooled books from their collection.

Commentary: Dr. Maurice Craig Music: Jolyon Jackson Running time: 26 minutes

A Dublin Silversmith - 1980

Royal Charter Silver, a Dublin family business, crafts fine Irish silver based on the 18th. Century Irish Georgian period. The documentary shows master silversmith John Carroll, his son Sean and others making a silver teakettle. It covers it's intricate design and construction, including the lost wax process, engraving the surface of the kettle before assembly, and final polish, demonstrating the skills and craftsmanship needed to produce fine Silverware.

Commentary: Éamonn Mac Thomdis Music: Jolyon Jackson, Paddy Glacken & Matt Molloy Running time: 26 minutes

A Dublin Candlemaker - 1982

William Rathborne and Co., Wax-chandlers, is the oldest company in Ireland, established in 1488. They follow an ancient tradition of making beeswax, wick-dipped church candles. They produce household and other candles from parafm wax using vertical frame moulds. Rathbornes also hand pour candles for special occasions, some so large, they take three men to carry them! The firm is still in business today, trading through the website: lalor.ie.

Commentary: Éamonn Mac Thomdis Music: Jolyon Jackson, Paddy Glacken & Matt Molloy Running time: 26 minutes
Disc 10 - Basketmaking, Wexford Thatcher, Rushwork

Basketmaking - 1978

Tells the story of the Shanahan brothers of Carrick-on-Suir, County Waterford. They are the last of the old-style commercial basketmakers. It shows the cutting of the willows from the 'Sally Gardens' by the river Suir, the preparation of the willows, and the making of traditional baskets including an eel trap, a yeast basket, and a Herring cran. Adapting to changing times the brothers also weave baskets for hot air balloons.

Commentary:Andy O'Mahony Music: Michéal Ó Súilleabháin Running time: 26 minutes

Wexford Thatcher - 1981

The Rochford family have been growing oats in Cleariestown, Co. Wexford for generations, and providing excellent straw for thatching. We see them using their restored 19th century Marshall steam engine to drive the threshing machine. Tommy McGrath cuts sally willows to make scallops for roofing staples. And the thatcher, Paddy Casey, gets to work using his home made beating pin to drive home the straw fletchs.

Commentary: Diarmuid Ó Muirithe Music: Jolyon Jackson Running time: 26 minutes

Rushwork - 1989

The craft of woven rush-work was revived in Ireland in the 1930's, and today is a thriving industry. This documentary covers the harvesting of rushes on Lough Ree, and the storing and curing of the sheaves. Mrs. Frances Brennan prepares the rushes and makes a traditional rush basket over a wooden mould that demonstrates the various weaves. Also included is a collection of current and historic rush-work which highlights the skills of the weavers as they continue this traditional craft.

Commentary: Seamus Ó Cathaín Music: Terry Odlum Running time: 26 minutes
Disc 11 - Stone , Stoneground, Woollen Mill

Stone - 1981

There is a long tradition of working with stone in Ireland. This film documents the lifestyle and work of quarrymen and stonecutters at Ticknock, Co. Dublin, and Ballyknockan, Co. Wicklow. Skilled masons and carvers cut the famous Irish granite for the statues and fa9ade of the Bank of Ireland, College Green in the heart of Dublin City. It includes the laying of cobblestones in Trinity College, Dublin, and the carving of a decorative Georgian-style mantelpiece. This film captures some of the last quarrymen working the granite quarries which have sadly gone into decline.

Commentary: Éamonn Mac Thomáis Music: Terry Odlum Running time: 26 minutes

Stoneground - 1978

Martry Mill, owned by the Tallon family, was established near Kells Co. Meath in 1659 on the River Blackwater. This atmospheric film shows the age old process of milling grain into flour, using the power of water and traditional stone-ground milling techniques. James Tallon and his uncle Michael, produce the finest traditionally ground products. The film documents the work of traditional millers aware of their heritage, now lost to more efficient methods.

Commentary: Andy O'Mahony Music: Michéal Ó Súilleabháin Running time: 26 minutes

Woollen Mill - 1989

Kilmanham Mill is a 150 year old, water-powered woollen mill on the River Camac in Dublin. Here we see textile designer Noirin Pye and her brother John O'Louglin Kennedy, owners of The Weaver's Shed, preparing wool, dying the fleece, spinning it into yarn, and weaving it on hand looms into fine tweeds. The finished fabric is then washed and finished. The mill boasts some extraordinary archaic machinery; it still has a 'Mule' for spinning the yarn invented by Crompton in 1779.

Commentary: Ray Mc Anally Music: Jolyon Jackson Running time: 26 minutes
Disc 12 - Shannon One Design, Irish Spinningwheel Making

Shannon One Design - 1981

At Mount Plunket near Lough Ree, Co. Roscommon, surrounded by beautiful countryside, Jimmy Furey, a former eel fisherman, builds a sailing boat based on a traditional 18ft River Shannon angling boat. He lives in a rural idyll, with his dogs and collection of old Volkswagen cars. The documentary covers the process of constructing the boat, including the selection of timber, steam bending, and laying the strakes, and concludes with its launch and sailing in the annual Lough Ree regatta.

Commentary: Ben Kiely Music: Maurice Roycroft Running time: 26 minutes

Irish Spinningwheel Making - 1991

James Shiel and his son Charlie, from Carndonagh, Co. Donegal, are 2nd and 3rd generation spinning wheel makers. They are the last individuals to commercially make the Dutch or low spinning wheel in Ireland, first introduced from Holland in the 1630's for spinning flax, and later used for wool spinning. The film shows the making of this traditional spinning wheel, the types of timber used, and the woodturning techniques employed. Most of the parts of the spinning wheel are turned on the lathe. The documentary visits Mrs. Mary Towe, one of the last traditional hand-spinners who has spun wool for her family's needs all her life. Her treadle-wheel has been handed down from mother to daughter through five generations and is believed to be at least 270 years old; possibly one of the original flax-wheels made by Irish craftsmen and distributed by the Linen Manufacturers of Ulster in the 18th Century.

Commentary: Ben Kiely Music: John Murphy Running time: 26 minutes
Disc 13 - Clay Pipe Works, Shoe Making

Clay Pipe Works - 1983

This fascinating documentary set in Lossets, Carrickmacross, Co. Monahan captures the craftsmanship of the Irish Fireclays and Stoneware Company, makers of industrial clay drainage pipes. Made from quarried and milled shale, the film follows the craftsmen through the entire production process. We also meet the Kiln-men who supervise the firing of the largest beehive kiln in the British Isles at Kingscourt, Co. Cavan.

Commentary: Diarmuid Ó Muirithe Music: Jolyon Jackson Running time: 26 minutes

Shoe Making - 1978

Tutty s of Naas, Co Kildare is perhaps the most famous hand-made shoemaking establishment in Ireland. In the film, George Tutty, father figure and founder of the firm, measures a client's feet to make the wooden lasts or foot moulds around which the shoes will be crafted. It follows the making of brogues from the selection of the leather, preparation of templates, cutting out and sewing the uppers, building up the sole and heel, before the final finishing and polishing. Tutty's also) specialise in shoes for people with orthopaedic and orthotic issues. The firm is currently still making shoes to this day, trading through: www.tuttyshandmadeshoes.ie.

Commentary: Diarmuid Ó Muirithe Music: Michéal Ó Súilleabháin Running time: 26 minutes
Disc 14 - Powers of the Metal, Of Bees & Bee Skeps, Fermanagh Country

Powers of the Metal* - 1989

An entertaining and unusual film, it tells the story of the Power family, metal casters from New Ross, Co. Wexford. We follow the process of sand casting a replica of a nineteenth-century, Garden Seat. We also see the weekly cycle of hand-digging marl clay to line the foundry's furnace, the buying in and breaking up of scrap metal for smelting, followed by the high-risk business of pouring the molten metal, over-seen by Mrs. May Power. The documentary is accompanied by music played by the local youth band.

*Certificate of Merit from the Industrial Film Festival in the USA.

Commentary: Diarmuid Ó Muirithe Music: Vincent Killduff Running time: 26 minutes

Of Bees & Bee Skeps - 1983

Winner of theGolden Harpfor Ireland, and held in the Museum of Modern Art collection, New York, this arresting and moving documentary records Jack Carey of Clonakilty, Co. Cork making a traditional bee skep from wheaten straw and blackberry briars. Helped by neighbours, he catches the swarming bees in the skep before gradually introducing them into their new hive. It shows the traditional work of beekeeping, including the harvesting of the honey combs and extracting the golden honey.

Commentary: Diarmuid Ó Muirithe Music: Vincent Killduff Running time: 26 minutes

Fermanagh Country - 1980

This historic and unique documentary captures a rural lifestyle no longer found in Ireland. It tells the story of the Mulholland family from Co. Fermanagh, and records their traditional lifestyle and methods of farming, quarrying, and making circular grinding wheels and whetstones for sharpening scythes. It gives a glimpse into the lives of these hardworking Fermanagh men and women who carry on their rural practices peacefully and resourcefully without modern aids.

Commentary: Benedict Kiely Music: Michéal Ó Súilleabháin Running time: 26 minutes